Sophia Landy- MI3DE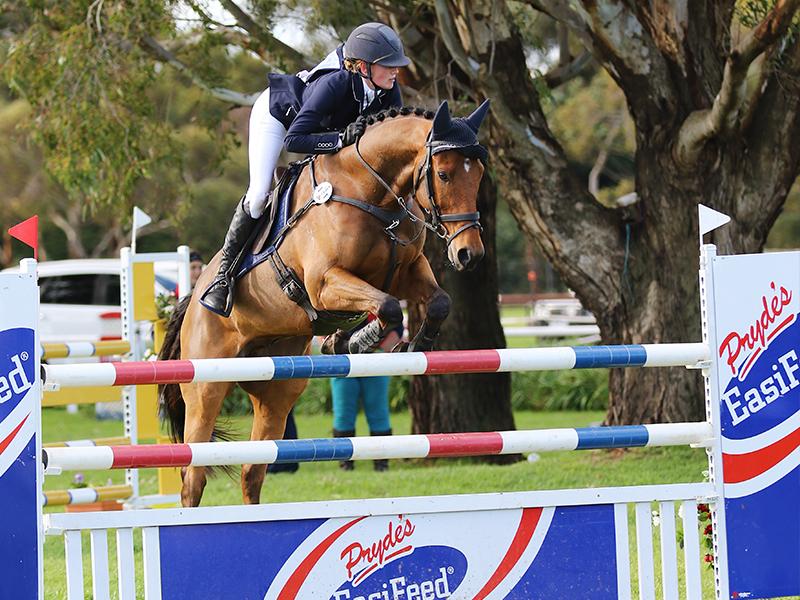 As with every 3 Day event, there is a massive lead up to Melbourne 3DE. The preparation starts months beforehand, and with so much lead up and careful preparations it is a relief when it finally arrives. This year I had two horses competing; Geisha in the 3*** and Hughie in the 4****. The first part of the competition is getting the horses through trot up. It's always rewarding seeing the horses looking so heathy and fit as they are presented for trot up. It's an achievement in itself getting a horse to the event sound and healthy! Both Hughie and Geisha were accepted through the trot up and our competition was officially underway!
The competition started off well, with both horses pulling off their best test of the season. Geisha stayed calm and rideable, and Hughie got through the challenging 4**** test without a hiccup. For Geisha things unfortunately took a downhill turn on cross country day. After jumping through the first water brilliantly, we had a nasty fall at the following jump, a ditch and skinny brush type of fence. Poor Geisha put her foot in the ditch on take off and then caught her leg over the jump and wasn't able to get her feet down in time on the other side. I was very lucky to fall clear of her, and even luckier that she just missed squashing me. We were both on our feet straight away, both unhurt though it had been rather spectacular! Having established we were both ok, I was disappointed by what had happened, feeling like I hadn't ridden the fence the best way for Geisha. However there was nothing to do but put it behind us and focus on Hughie.
So I set out on Hughie, both tackling our first long format 4**** track. Hughie gave me an incredible ride, proving again and again just how honest and athletic he is. He really wanted to gallop, and just ate up the course. I was over the moon to come in clear and 25 seconds under the optimum time (maybe I can slow down a bit next time!!) Unfortunately though he tapped a frangible pin with his hind legs as we jumped into the final water, giving us a costly 11 penalties. However I couldn't be disappointed having had such an amazing ride! He pulled up really well and flew through the final trot up the next morning. Though Hughie felt great in the warm up, and was being very careful, he lost some of his springiness in the deep going of the main arena. Nonetheless he jumped a calm and good round, just rolling three rails. While it was not the clear round he usually jumps and I had been hoping for, I was thrilled to finish the event with a MER (qualifying result).
So now we are back home after a great event, and Hughie and Geisha are enjoying a well-earned break. I'm still busy with breakers and clients horses but am enjoying the off season and spending some weekends at home!
Pics via: @theblachat